In the report the technology of virtual security modules will be presented. It rely on Linux containers. The report should be interesting for those people who are planning (or already using) could services for building IT-infrastructure.
Kirill Krinkin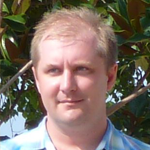 Adjunct Professor, SPbAU RAS
Kirill Krinkin, PhD in Software Engineering, Ajunct Professor in Department of Mathematical and Information Technologies of Saint-Petersburg Academic University RAS. Participant of Open Source motion, founder of Student Open Source and Linux Lab. Nowadays, he is active teacher for Operating Systems, Linux and Windows kernel programming, Qt/QtQuick courses. Research interests are virtualization, power saving in wireless networks, smart spaces, distributed systems, location-based services.
Dmitry Kartashov
PhD student, SPbAU RAS