We are going to present and demonstrate two approaches to building temporary social networks (like participants of the business meeting, students in the class-room, tourists in the bus etc.) One approach is based on using Bluetooth Low Energy protocol together with smart logic on backend side, other approach is based on Wi-Fi/Wi-Fi direct protocol. Applicable for Android and iOS mobile devices.
Maxim Leykin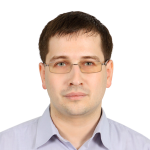 CTO Manager, MERA NN, LLC
Graduated from Nizhny Novgorod State University in 2000, specialty "computer science", Ph.D. in physics and mathematics. Experience in IT since 1998: software engineer, team lead, project manager. Currently I obtain a position of CTO in Mobile Application Department of "MERA" company. I also deliver lectures on Java programming and Android programming. The area of professional and scientific interests: mobile applications development, project management, discrete optimization and decision-making support systems.
Alexander Korshak
Team-lead, MERA NN, LLC
Alexander Korshak graduated Nizhegorodsky State University, Faculty of Computational Mathematics and Cybernetics, works in Mobile Applications department of MERA NN since 2010. He develops mobile apps on different platforms, mainly Android. As a team-lead and Android expert Alexander is regularly involved in development of pilot and perspective projects, new technologies study and adoption.