10th Central & Eastern European Software Engineering Conference in Russia (CEE-SECR 2014) took place in Moscow on October 22-25. Conference gathered 769 IT professionals representing 298 companies: programmers, QA engineers, architects, analysts, scientists, entrepreneurs and investors.
Conference program included almost one hundred and fifty reports, discussions, master classes and a Hackathon.
Keynote speeches were combined with sessions on different aspects of software engineering: technologies and methodologies, project and team management, education and business in the industry and many others.
The CEE-SECR Mobile App provided conference attendees with real time updates about schedule, presenters, talks evaluation and more.
The most interesting reports according to the voting:
"Breaking the mould: Lean Product Management and MVP in a large company" by Ilia Kuznetsov from Kaspersky Lab;
"Managing the legal risks in software development" by Yana Chirko from Dentons;
and "Training of young IT specialists by own resources" by Dmitry Voloshin from Mail.Ru Group.
Semyon Grigorev from JetBrains with his talk "String-Embedded Language Support in Integrated Development Environment" won this year's Bertrand Meyer award for the best research paper in the field of software engineering.
Special award went to Michael Pozhidaev, who told CEE-SECR attendees about his work on making computers accessible for blind and visually impaired people — specific operating system and frameworks for creating applications.
Hackaton teams also received their prizes. Digital Design Company, Jet Brains, Kaspersky labs and Russian Venture Company announced winners in special nominations. "AlterGo" team was selected as the best Hackathon project.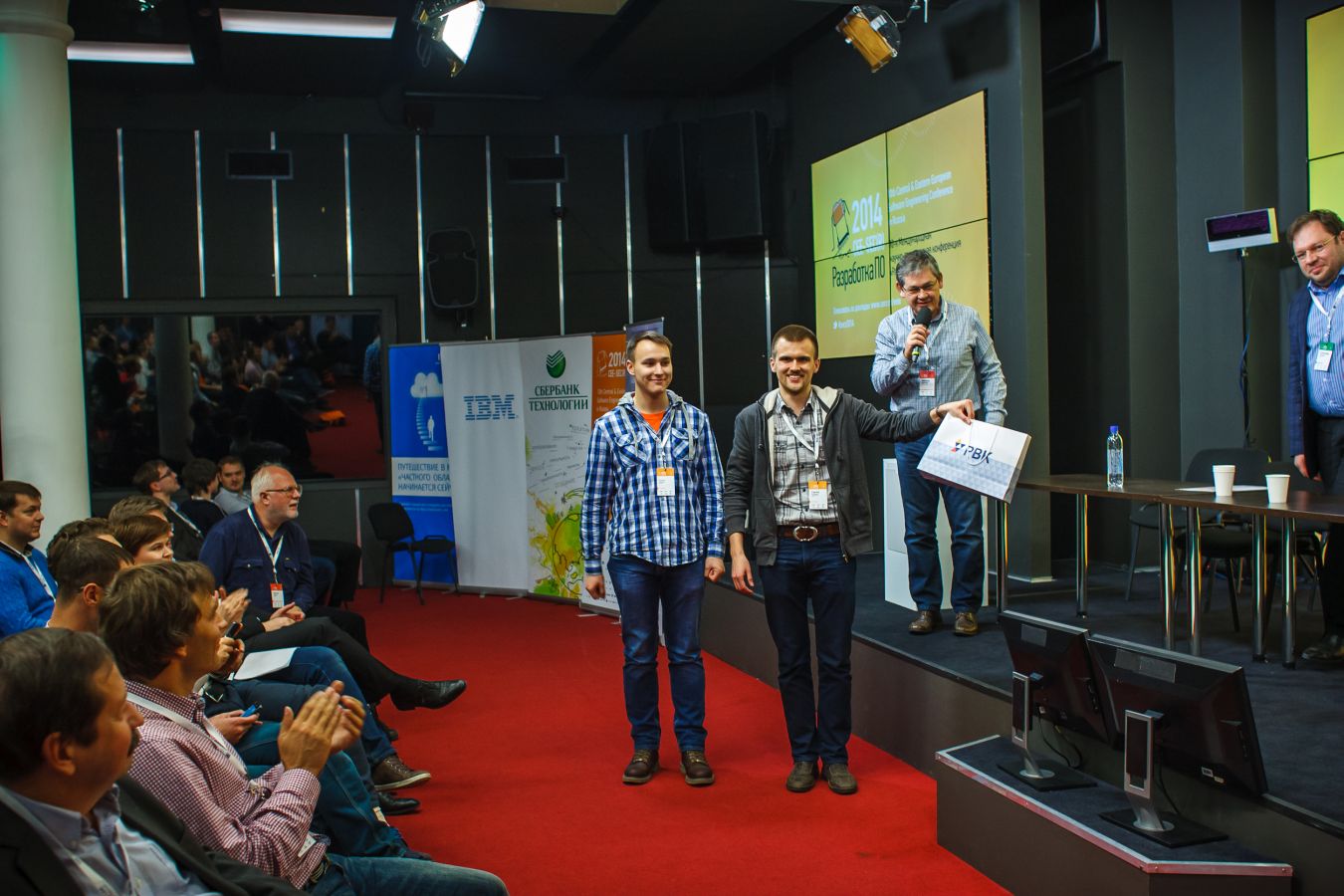 This year's conference received support from RVC, Deutsche Bank, Intel, JetBrains, SAP, Sberbank Technologies, IBM, First Line Software, EMC, QT, Digital Design, Genesys, Luxoft, Oracle, Jelastic, Mediapark, associations RUSSOFT, APKIT, RAEC and others.
Presentations, videos and photos are available on the conference website: 2014.secrus.org