Have you created a game? Do you want users to be able to record the best gameplay moments?
This tutorial explains how to use Intel INDE Media For Mobile to add video recording capability to Unity applications on Android.
Ilya Aleshkov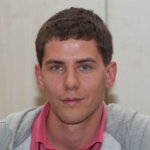 Senior Software Engineer, Auriga
3D graphics software engineer at Auriga. Previously he was engaged in developing virtual fitting room Dressformer. He created gesture interfaces for air screen Displair, worked at largest publishing house Conde Nast.