We will present some results of Mail.Ru Group experiments on mass training of young programmers with involvement our own developers as teachers.
Dmitry Voloshin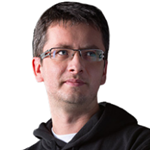 Head of Research and Education, Mail.Ru Group
Dmitry was born in Moscow in 1978. He graduated SUM and got his MBA (MBI) there as well in 2008. Dmitry has been working in Mail.ru Group since 2012, first he was invlovled in creating Technopark Mail.Ru, and now he manages external education and recruiting of young specialists.