In my speech I will be happy to share my experience on building a QA-department at an affiliate of IT-company at a midsize town from scratch. I will tell you about local hiring peculiarities, headhunting, bringing up internal specialists and remote QA department management. The topic I believe will be useful for both QA department managers and testers.
Inna Smirnova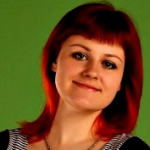 Senior test engineer, Reksoft
I was graduated from the Voronezh State University, applied mathematics and mechanics faculty. I've been working as a quality assurance engineer since 2007. During my career I provided testing for different kind of projects, from game development and mobile applications to enterprise information systems and large-scale portals for the public sector. I'm a coordinator of SW testers community in Voronezh. I've also successfully presented my reports at CEE-SECR-2013, SQADays 13, 14.