Long-term project, such as product development projects or large custom engineeting projects, require a specific team-management approach. Creating and tracking temporary ad-hoc solutions is ineffective in this case. It is necessary to create working, self-sustaining, evolutionary processes. This report is about transition from using local practices and processes to forming the culture of the team.
Ivan Ilin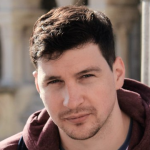 development manager, SKB Kontur
For the last 5 years I have been working in SKB Kontur. For the last 4 years of them I participated in development of a web-service for bookkeepers – Buhgalteria.Kontur. The last 2 years I am a development manager of this project.