Tarantool, a NoSQL database, is one of the few open source products created and developed in Russia. This talk is about the databases, NoSQL, and in particular about experience of creating and marketing a free software product in Russia.
Konstantin Osipov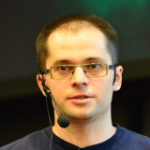 Software Engineer, Tarantool
Konstantin Osipov is a graduate of the Moscow State Univercity, the faculty of Computational Mathematic and Cybernetics.
He develops open source software since 2001. Before joining the Tarantool project, he was a member of MySQL core development team and ran the server runtime team at MySQL AB.