Despite of the elegance of smart spaces paradigm and its clear advantages, this area of development of smart software for Internet of Things (IoT) still has very limited systematization and formal concept notation. The paper provides a clarified vision onto the smart spaces terminology. The focus is on the well-known M3 architecture, and this study sequentially elaborates the notions of smart space, smart environment of knowledge sharing, smart space application, its services and its architecture. The contribution of this research includes P2P-based service formalism, on the base of which architectural abstractions are presented for use in design of smart spaces applications.
Dmitry G. Korzun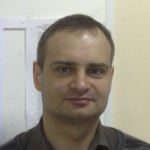 Adjunct Professor, Principal Scientist, Vice Dean, Petrozavodsk State University (PetrSU)
Dmitry Korzun received his B.Sc. (1997) and M.Sc (1999) degrees in Applied Mathematics and Computer Science from the Petrozavodsk State University (Russia). He received a Ph.D. degree in Physics and Mathematics from the St.-Petersburg State University (Russia) in 2002. He is an Adjunct Professor at the Department of Computer Science of Petrozavodsk State University PetrSU, Russia (since 2003) and a part-time Research Scientist at the Helsinki Institute for Information Technology HIIT and Department of Computer Science and Engineering CSE, Aalto University, Finland (since 2005). Since 2013 he is vice dean for research at Faculty of Mathematics of PetrSU. Since 2014 he is a principal research scientist at Faculty of Mathematics of PetrSU. Dmitry Korzun serves on TPC and editorial boards of a number of international conferences and journals. His research interests include analysis and evaluation of distributed systems, discrete modeling, ubiquitous computing in smart spaces, Internet of Things, software engineering, algorithm design and complexity, linear Diophantine analysis and its applications, theory of formal languages and parsing. His educational activity started in 1997 at the Faculty of Mathematics of PetrSU. Since that time he has taught more than 20 study courses on hot topics in Computer Science, Applied Mathematics, Information and Communication Technology. He is an author and co-author of more than 120 research and educational publications.