This presentation is about SAP BusinessObjects Business Intelligence 4.x universes testing automation methodology. It is based on our team experience during the work on project which contains universes creation. Practical actions (which will be observed in presentation) help to significantly decrease testing time of complex universes or their big amount.
Andrey Rodkin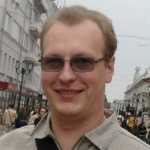 Test engineer, Return On Intelligence
Andrey graduated Sarov Physics-Technical Institute, specializing in Information Systems and Technologies. He has 7 years of testing experience, with most of his time dedicated to productivity testing of different MPI libraries.