We will present a new independent research of mobile banking application security, conducted on about 120 applications for 2 platforms (iOS and Android) of more than 70 banks. The research is focused on the vulnerabilities that can be exploited to implement a MitM (Man-in-the-Middle) attack and steal funds from customer accounts.
Dmitry Evdokimov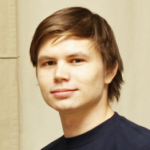 Head of Digital Security Research Group, Digital Security
He focuses on SAP security, particularly on Kernel and Mobile security (iOS, Android, WP). He has official acknowledgements from SAP and Oracle for the vulnerabilities he found. His interests cover reverse engineering, software verification/program analysis (SMT, DBI, IL), vulnerability research and development of exploits, software for static and dynamic code analysis written in Python. "Security soft" and "X-Tools" section editor in Russian hacker magazine "XAKEP". One of the Defcon Russia (DCG #7812) organizers. Spoke at CONFidence, ZeroNights and BlackHat.