What's the difference between the development of medical software and the development of an application controlling your kettle based on the popular mobile platform? Is it possible to create reliable and sustainable software to be used in healthcare domain – from walk-in clinics to intensive care units?
This report will describe a number of international standards, which define the requirements for medical software development processes, risk management and quality management system. Some guidelines for the medical software development projects management will be presented based on the real-life cases.
Airat Sadykov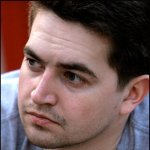 Senior Project Manager, Auriga, Inc.
Airat has been working in software development industry for over 10 years. Right now he leads medical software development in Auriga.