In this paper we will present a modelling approach that enables an analysis of heterogeneous Big Data. We illustrate our approach with a real-life case study from a financial sector.
Andrey Sadovykh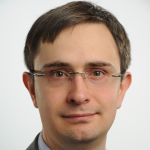 Head of Research Unit, SOFTEAM
Dr. Andrey Sadovykh holds the M. Sc. degree in Applied Mathematics and Information Technologies of Moscow Institute of Physics and Technology, the Ph. D. degree in Computer Science of Paris 6th University and the MBA degree of HEC Paris Business School. For his Ph. D. he worked in EADS Space Transportation as a research engineer in development of systems for distributed monitoring and supervision. He was involved in the European Space Agency (ESA) projects for ATV spacecraft validation facilities and Hardware in the Loop simulation. At SOFTEAM, Dr. Sadovykh holds the position of the Head of the Research Department. He leads research activities in MDA / MDD – he worked as the project manager and the research engineer for the ENOSYS, MADES, PRESTO, MOMOCS, MODELPLEX, SHAPE, REMICS, JUNIPER, and ModaClodus projects. He was the technical coordinator in REMICS and MADES FP7 projects and was the consortium coordinator in the RTE Space (ESA-funded) and ENOSYS FP7 projects. In ModelWare project, Dr. Sadovykh lead development of middleware for integration of model-driven tools. In REMICS project, Dr. Sadovykh proposed an approach on model-driven migration of legacy systems to cloud infrastructures. Dr. Sadovykh is actively involved in the in the standardization activities at the Object Management Group. He contributed to standards on SOA and UI modelling – SoaML and IFML respectively.
Marcos Aurélio Almeida da Silva
Research Engineer, SOFTEAM
Dr. Marcos Almeida holds a Ph. D. degree in Computer Science of the Paris 6th University. In SOFTEAM, Dr. Almeida works as research engineer in projects related to modelling cloud and big data applications. He has worked as research engineer for the MODAClouds, JUNIPER, MOVIDA and ROARS projects. In MODAClouds he is responsible for developing the MODAClouds Functional Modelling Environment, which allows developers to describe cloud applications on a high level and integrating with deployment tools from it.