There are huge deficit of worthwhile programmers and QA-specialists on regional market. But we find new employees for our growing company in this situation.
I will talk about non-typical but effective methods of searching and involving, which help us to find better candidates. I will answer the question: How to change IT-students' summer internship into breakthrough tool to involve talents in the IT-company.
Oleg Vlasenko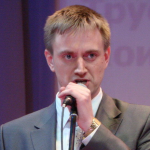 Deputy Director, SimbirSoft
Senior Lecturer, Computing Machinery Department, Ulyanovsk State University
Oleg is working in IT industry for over 20 years, 12 of which are dedicated to commercial software development. In recent years he is focusing his efforts on educating of young specialists, both inside company and at associated educational institutions.
Oleg is a frequent and respected speaker at local IT conferences.