Presentation covers the teaching (and learning) experience of soft skills development (mostly, communication skills and team work skills) in the course "Group dynamics and communications at professional practice of software engineering" for the student of educational program "Software Engineering" on the Faculty of Computer Science at the Higher School of Economics.
Elena Ovchinnikova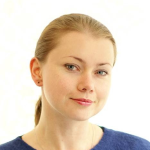 Deputy Vice-rector, Associate professor, HSE
Elena Ovchinnikova – PhD in Psychology, executive coach, employee of National Research University "Higher School of Economics" (NRU HSE) as deputy dean for work with prospective students, graduates, and partners; as senior lecturer at organizational psychology department; and as senior research fellow at positive psychology and life quality research team. Formerly has 5-year experience as senior consultant at Leadership & Talent Consulting department of RosExpert (Alliance partner of Korn/Ferry International), providing services in executive assessment and executive coaching for executives individually and in teams. Now the main interest focuses on developing integrated program for psychological education and development of software engineering students at bachelor and master degree (on the base of Software Engineering School at NRU HSE).