In my presentation I will introduce you to the technology of "beacons", and will discuss its capabilities, limitations and a number of interesting examples of its practical usage. Originally pushed by Apple, under the "iBeacon" brand, these small electronic devices — and the mobile applications and services leveraging them — shook the market and quickly became a notable technological trend. Retail and customer services, social applications, education and infotainment, smart homes and environments — this examples are far from a complete list.
During my session, attending developers will have a chance to learn the basics of building mobile applications with beacons. I will discuss how the technology is supported on modern platforms. We will also review the current vendors of beacons on the market and compare the models that they offer — and you will get an opportunity to see some of those beacon devices yourself, in action!
Vladimir Beloborodov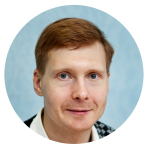 consultant and developer
Vladimir is consulting and actively developing on different platforms and languages. His professional interests and passion also include functional programming and development of HTML5-based applications for Web, mobile devices and PCs.
Vladimir graduated from the State Technical University of Nizhny Novgorod and he holds Bachelors and Masters degrees in Informational Systems and Technologies. Since 1998 Vladimir was working with Mera as sustain engineer, senior designer, project manager, technology prime and technical manager. Right now Vladimir is responsible for technological planning and development of unified and tele-communications, being leader of an expert team dedicated to the problem.