The objective of this presentation is to share experience of exploratory application testing and quality improving in tight schedule and volatile requirements. Exploratory testing of software is an approach to testing, where test engineer is exploring an application, designs test and executes them. Listeners will gain info about reducing time required to gaining expertise in new functionality and designing test cases by introducing exploratory testing into existing processes.
Irina Skurskaya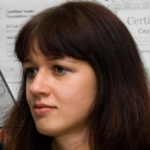 Senior test engineer, Reksoft
Graduated from Saint-Petersburg State Polytechnic University, majoring in "Information systems and technologies". Working in test engineering since 2012. Heading team of test engineers in banking products account of company Reksoft. Worked in both manual testing and integration of our systems at customer's site. Was involved in audit for CMMI 5 Level. Conducting internal courses and training for employees, and teaching Test Engineering course in Sankt-Petersburg Polytechnic University.