I think you know a lot of people who use multiple devices for their everyday life.
They have a phone, a tablet, a lap-top and a PC. Usually these devices have different operating systems, and most applications don't keep their data in sync. I will show the easy way to create multiplatform application using a cloud storage.
Alena Panshina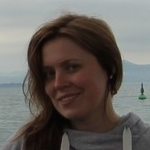 Yandex.Disk API Marketing Manager, Yandex
Alena graduated Novosibirsk State University in 2008, specializing in Automated Systems Management. After that she started working as client and product manager at Tele2. Later she also was a part of the marketing team for payment collecting-and-processing projects, and for Rostelecom banking card. Recently Alena joined Yandex as technomarketing specialist.
With travel as a main hobby, Alena has already visited 23 countries and 63 cities.