Based on our experience of developing Acronis True Image product, I'll describe how we used different methodologies of development and where each of them suite best. Main point of the article is that there is no "silver bullet" which can help on any project, you have to carefully identify the problems you have on a project and then use appropriate approach to address them.
Roman Alyoshkin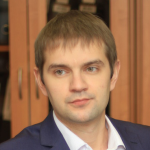 Director of product development, Acronis
Roman is working in IT industry for 11 years already, five of them as Director of product development at Acronis. He led or participated in over 15 successful projects, no less than 6 months each.