Various aspects of installation, configuration and upgrade of large distributed and heterogeneous systems are elucidated in the report:
Risks
Version Control
Planning
Best practices
In house and SaaS solutions
Multi-instance and Multi-tenant architecture
Report will be of interest to both developers and project managers.
Ilya Akatnov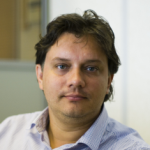 Project Manager, ZAO Arcadia
Participated in more than 20 projects of different duration with shared teams, with customers and partners all over the world: US, Scandinavian countries, Australia, UK, India, and Russia.
Has real experience of managing of distributing software developed by shared teams, total size of 100+ developers.
Over 15 years' experience in Software development as Team Lead, Software Architect and Project Manager