I will explain why it's beneficial for software testers and developers to work together and effectively communicate to ensure a successful outcome…
Evgeny Tkachenko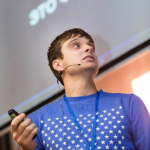 Test Manager, Innova
I have more than 4 years of engineering experience in automation testing, mainly on complex projects in the telecommunication and online entertainment industries, as well as manual testing. I have always been curious about the programs I use, and even as a child I was inspired to use my natural ability to test. I got into professional testing when I started software development. In the initial stage of my career I worked as a manual tester, and quickly moved to automation thanks to my skills in programming languages. I like programming, but I find that software quality analysis and improvement is more interesting than software production. I am looking forward to impacting the software testing world with one of my new developments. I am glad to share my experience with other engineers and never hesitate to do so.
I have some publications in Test Magazine: http://content.yudu.com/Library/A205ct/TestMagazineDecember/resources/14.htm#!, http://www.softwaretestingnews.co.uk/the-developer-is-not-your-rival/#!
I have a professional blog:
http://innovatesting.blogspot.ru/
I have made presentations at various international conferences: SQA Days 11, SQA Days 13, SQA Days 14, Product Camp 2013, Agile Days 2014.
I have participated in a lot of interesting conferences like: EuroSTAR 2011,EuroSTAR 2012, Selenium Conf 2012, Agile Days 2013, STARWest 2013.