The rapid evolvement and popularity growth of Internet of Things make developers find ultimate and the most effective solutions to deliver projects of this type. Using a cross-platform approach can facilitate and hasten the creation of IoT complex system since it allows to reuse the code efficiently across different platforms and gives an opportunity to apply the same technology for all system elements during the whole developing process. In this talk I will demonstrate the advantages of this approach through the example of Qt usage.
Tuukka Ahoniemi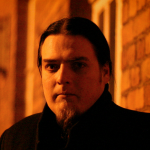 Technical Product Marketing Manager, Qt, Digia Plc
Tuukka works with the product marketing of Qt, Digia. For the past years he has traveled around the world spreading the message of Qt supremacy in the form of having held over 100 Qt training courses, speaking in various conferences and trade shows. For past two years he worked in adopting Qt into the various use cases of Qt Enterprise customers as a Sales Engineer in the Qt Americas Sales team. Still trying to "finish" his PhD he holds a M.Sc (tech) in Computer Sciences with the background in academic teaching of programming and research around it. Tuukka is now based in Tampere, Finland.