How to achieve mutual understanding, to avoid global conflicts and establish partnerships with different types of customers in offshore projects.
This report will be interesting for project managers and all persons who closely communicate with customers during working process.
The report includes cases of typical problems, possible solutions and general conclusions applicable for the wide area from pilot projects (1-3 specialists) to big projects with shared teams located in different countries (20-30 specialists).
Oksana Uvarova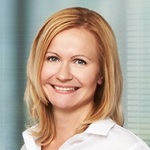 Software Development Director, Arcadia
Oksana has over 9 years of software development experience, she began her career as QA Engineer, moving on to managing projects, teams, and clients. Certified Scrum Master, Prince2 Foundation.