In the CAD world, cross-platform-ability of applications is often understood as an ability to work under different CAD platforms, commonly on the same operating system.
In this talk we will share our experience of creating cross-platform CAD applications: we will describe different approaches, selection criteria, and applicability.
The subject will be discussed from two different points of view: as a CAD application developer and as a CAD platform developer.
Ilya Slobodin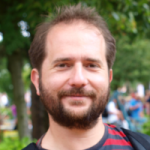 Project manager, Nanosoft
Took part in the CAD development for the first time in 1994 as a student. Since then have been developing software for architectural restoration and geometry reconstruction from archive photos, manufacture of kitchen furniture, scanned drawing processing.
Currently works at Nanosoft as a project manager of "nanoCAD Developers' Club".