Recently it has become more and more popular topic of application development services using GEO location. Increasing number of applications integrates cartographic information and shows her various objects. In this report, I will discuss the major problems that should be solved every beginner developer and demonstrate their solution.
Dmitry Peterson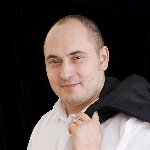 Deputy Director, Operative Management, SimbirSoft
Dmitry has over 12 years of experience in IT industry, specializing in telecommunications, billing systems and mobile apps development. He has been project manager for over two dozens of successful mobile projects, focusing on geolocaton service and augmented reality applications.
Dmitry graduated Ulyanovsk State University in 2001.