Despite the fact that practically every company from the IT industry claims working agile in one form or another most of them are deeply mistaken.
In this session I will bust many myths about agile and will also give you an overview of 20 typical anti-patterns that we see today at most companies introducing scrum or kanban.
Sergey Dmitriev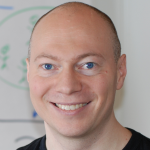 Business Agility Coach, CEO, Unusual Concepts
For over 7 years Sergey helps his clients to improve their product development process. In the past he was working as head of development department and product owner in several big internet companies of Norway. Now Sergey is coaching product owners and startups around the world. He certified over 300 of product owners, working as certified scrum coach.
Sergey implemented Agile in dozens of major companies in more than 10 countries. He is acting Agile couch, spending about 30% of his time with real teams on the real projects. Sergey is co-owner of Agile coaching company Unusual Concepts.
Sergey authored more than ten training and practice programs in Agile (Lean, Kanban, scrum). He is the first and only (for now) Russian scrum coach certified by Scrum Alliance.