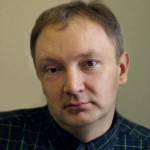 Professor, MIPT
Chief Scientist, Parallels
Prof. Alexander Tormasov – scientist, educator and software artisan with more than 30 years of experience in the field of high technology. He has worked in Russia and in many other countries – USA, UK, Singapore, Sweden, India– and frequently attends high-profile scientific and technology conferences around the world.
From September 2012, Prof. Alexander Tormasov holds the office of the Rector of Autonomous noncommercial organization "Innopolis University".
Alexander is currently dividing his time between:
Activities at the ANO "Innopolis University";
Teaching and mentoring students at the Moscow Institute of Physics and Technology (MIPT), where he holds the position of Full Professor in Computer Science heading Theoretical and Applied Computer Science Chair;
Doing Computer Science research at "Parallels", global high-tech company with leading positions in virtualization and automation, where as Chief Scientist he is in charge of advanced research and educational projects as well as Parallels patent portfolio;
Managing Student Centers for Science and Education chartered to facilitate collaboration between Universities and IT industry.
In addition to his research and teaching work at MIPT, Alexander actively contributes to modern computer technologies curricula and facilitates collaboration between high-tech companies and the University.
Collaboration of science and industry
The presentation is about modern practices of narrowing the gap between science and business. The collaboration of higher schools and industry will be emphasised, with Russian and foreign scientific institutions as examples, including Carnegie Mellon, Amsterdam University, Singapore National University, KAIST, MIPT, and others.
Different modern methods of collaboration between business and educational institutions of Innopolis University in the near future will be presented.